About us
Thai Cuisine is known for it's savoury dishes with unique flavours and Mays Thai Restaurant serves delicious Authentic Thai dishes that you will definitely love. We have restaurant branches located at Manly West and Wynnum and both offer takeaway or delivery services for our customers' convenience on all days of the week. We know that you'll definitely love our dishes like Panang Fish Curry, Red Duck Curry, Basil Duck, Sweet and Sour Fish and a lot more. We also serve entrees, soup, salad, main course and meals that will definitely satisfy your heart and tummy. To order online, please click on the "Order Online� button and we'll immediately process your order accordingly.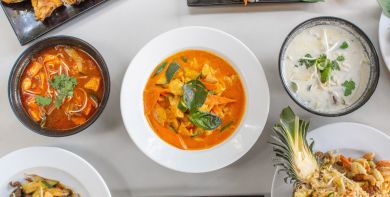 Reviews
Stewart
"So good thank you!"
2/04/2020
Cherie
"Could not fault, perfect heat & veges cooked to perfection. Good size serves, good price & very fresh."
28/03/2020
Pauline
"Food was yummy thank you. Will definitely be buying from you guys again"
25/03/2020
Kathy
"Pleasant driver, food tastes great. Want to support local business."
22/03/2020
Louisa
"Always delicious!"
22/03/2020
Kurt
"Never disappointed, love this Thai, always so fresh and tasty!! Duck buns, spring rolls, and ginger fish! All a winner!"
13/03/2020
julie
"As always great food and great service"
23/02/2020
julie
"Fantastic food always and excellent delivery as well"
13/02/2020